We woke up to the news that inimitable artist, singer and cultural icon, Prince, passed away at age 57 after suffering from the flu.
Known for his androgynous sexuality, bold fashion sense, musical and songwriting-prowess, Prince sold over 100 million records, moving effortlessly between musical genres, seamlessly-blending pop with rock, R&B, and funk. A brief list of his accomplishments include 7 Grammy Awards, an Academy Award for Best Original Song ("Purple Rain," 1985) and a spot in the Rock'n'Roll Hall of Fame.
His Purple Highness will not relish at the fact that we are mourning for his loss. In his style, we pay tribute by celebrating his iconoclastic fashion style and his work of art that embody him as His Purple Highness that we love and will miss.
Fashion style
From his earliest days in the public eye back in the '70s, Prince awed audiences with his dynamic, vivid fashion sense and his dizzying array of looks.
Never one to be timid, a "Dirty Mind"-era Prince performed in a sleeveless tee, a bandana, thigh-highs and black underwear at the Los Angeles' Flipper's Roller Disco Boogie Lounge in March 1981.
In 1993, Prince wore a torso-bearing blue and red rocks a pajama-like green and blue stripped suit with a few gold chains dangling from his neck, a megaphone, and shades completing the look.
At the 77th Annual Oscars, Prince rocks a purple jacket and white wide-bottomed pants while presenting an award on Feb. 27, 2005 at the Kodak Theater in Hollywood.
In bright yellow pants and matching heels, a subdued yet colorful turtleneck top, Prince plays in Vegas on Sept. 22, 2012 at the iHeartRadio Music Festival in Las Vegas.
More photos for Prince's life-changing outfits here.
Album covers
We do not only remember him by his fearless fashion style, but Prince also adapted his personality to his album covers. It was mentioned that he "had a fondness for royal purple, intense stare, questionable font choices, love of collaged photography and illustration."
Prince (1979): A shirtless, wavy-haired Prince appeared on the cover of his 1979 self-titled sophomore album, looking his audience dead in the eye and boldly reintroducing himself au naturale.
1999 (1982): This was Prince's breakthrough album on Billboard's Top Ten. It also marks a sharp turn towards art-pop with this illustrative cover in pure 80's psychedelic style. The artist is unknown, but many suspect that it's Prince himself who drew the cover for 1999.
Purple Rain (1984): With Purple Rain we have reached full Prince, and everyone was so excited as well as intrigued to know – what's up with the floral border? The fog? That intense stare may stay though.
Love Symbol Album (1992): Prince had the phase where he named his album with an unpronounceable symbol. Commonly called Love Symbol, this hieroglyphic-like symbol soon were to be adapted as his name in 1993, until he started calling himself "Prince" again in 2000.
Art Official Age (2014): Maya Washington is the creative genius behind Art Official Age's album cover. It's a further reincarnation of Prince with gold jacket, galaxy third-eye glasses and a smooth Photoshopped blurry face.
More photos for Prince's revolutionary album covers here.
His Purple Badness
In 1991, Prince was immortalised in an epic comic book series titled 'Prince: Alter Ego'. According to Afropunk:
The three-issue fantasy story was published by DC Comics (Piranha Music), ahead of Prince's thirteenth studio album release – 'Diamonds and Pearls'. Yesterday Dangerous Minds featured the vintage comic (written by Dwayne McDuffie) and its must-see artwork, stating: "The comic appears to present Prince's own famously bad self in the frame of a superhero, but it's unclear whether he has any superhuman powers or anything like that. In effect, it's the Prince origin story, a la Purple Rain, but with a big superhero-style archenemy plot thrown in."
Also, did you know he invented his own custom keytar?
Nothing compares
Prince's innovation, creativity and boldness will forever be an inspiration to everyone in the design industry – be it fashion, film, photography, arts, music and many more.
Good night, sweet prince.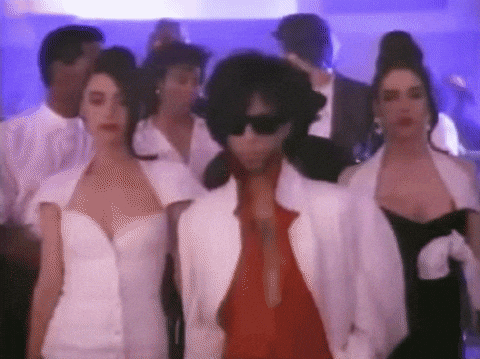 Credits: