Last April 1st, Tesla unveiled its latest electric car, the Model 3. The $35,000 vehicle is designed to seat five adults comfortably and can travel 215 miles on a single charge. It goes from 0-60mph in six seconds.
In just three days, Tesla founder and chief executive Elon Musk says pre-orders of the firm's much-anticipated Model 3 electric car currently total 276,000. The Model 3 is slated to not hit the streets until the end of 2017.
As Tesla Motors keeps making beautiful, futuristic and desirable cars, we cannot help wondering – why do they appeal so much? What are some of the ideas behind the designs and executions?
According to Franz von Holzhausen, chief designer at Tesla Motors, it's all in the details. This includes taking a fresh look at something as innocuous as door handles and coming up with something as fancy as the gull-wing doors that appears in the Model X.
In this article, von Holzhausen explains, "What I really wanted to achieve was this moth-to-the-flame (result). You don't really realize what you are looking at or why you are attracted to it, but you are," said von Holzhausen. "That engagement is what sparks curiosity."
Defining the physique of a car involves paying attention to a lot of details. And for Tesla, it also is about taking an unconventional approach to elements of the cars that might deem unimportant for winning over a car buyer's heart, von Holzhausen said.
An example of that is the door handle for Model S. It slides out and retreats with the control of a key fob. It's something that carmakers usually don't spend much time and money on. But Tesla's designers thought differently.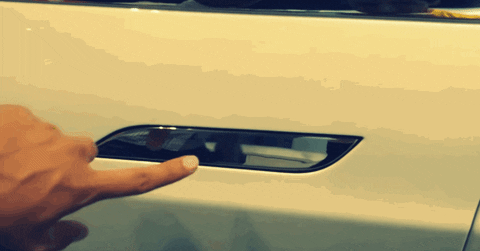 "As you approach the car for the first time, your first contact is through the door handle," von Holzhausen said. "It's a memorable experience. It needs to elicit an emotion."
You can view the video of Franz von Holzhausen, as he explains the inspiration behind the design of the Model S rechargeable sedan.
The obsession in the details do not only apply to the design and execution of their electric cars, but also during in customer service. According to Javier Verdura, Director of Product Design at Tesla Motors:
Walking into Tesla Motors store isn't just a matter of being sold cars, it's about being educated about the technology; about Tesla, how it went electric, what is a supercharging system, how far you go, and your carbon footprint depending on where you live in the country.
They are transparent about where your energy comes from (coal, gas, clean energy etc.) depending on where you live.
They don't do advertising.
They don't have a dealership network or dealership associations.
You can buy and configure an entire car online; what kind of wheels you want, what color, what interior etc. The car is made for you. Each car takes 6-7 weeks to finish.
The user-friendliness starts before even entering the car when the door handle that is flush with the body of the car slides out to greet you, but it certainly doesn't end there. Upon climbing in and powering-up the fully reconfigurable 12" cluster and 17" center display screens, you can't help but notice the intentional deviation from scores of hard, fixed controls.
Telsa's User Interface Manager, Brennan Boblett summarised the Tesla S dashboard in these words:
The first word would be, "innovative." Tesla has deliberately broken new ground with this design and they aspire to continually push the boundaries of in-car UI and UX.
"Intelligent" is another adjective that's important because it's not enough to just do something new for the sake of being new: it needs to be well-conceived—born out of an idea that is user-centric from the beginning and one that adapts to the user's tastes and behaviors over time. Tesla embodies that. Their firmware platform is just as impressive and technologically advanced as the car's exterior design language.
"Inspiring." Good design should evoke a positive emotion. When you open the sunroof in our car from the touchscreen, it's hard not to smile and relish in its simplicity and intuitiveness as you swipe your finger across the glass to drag the sunroof to the desired location, with precision down to the exact percentage.
"Sophisticated." This is a premium car and, therefore, it also should have a premium user experience. That starts, first and foremost, with the vehicle being smart on your behalf and offering solutions that are likely what you need at that given moment.
"Empowering." Nothing is compromised in a Model S, not even the UI. The software adapts to each driver's preferences and configuration. You get to choose what "apps" you want displayed on either screen that may be beneficial for your drive, while having common controls (like climate) quickly accessible at all times.
On top of the innovative designs, Tesla Motors is also making a huge stride towards a better world. Tesla's initiative to promote sustainability doesn't stop at its innovative cars. On April 30, 2015, Tesla launched the Powerwall, a rechargeable lithium-ion battery. The goal is to inspire customers to use Powerwall to create their own home solar installation systems. In fact, Tesla might be close to eliminating the electric bill completely for some users.
While there might be some political, economical and social obstacles on the way, if the world's innovation was headed towards creating a cleaner planet, it would look like Tesla Motors: the meeting point of technology, design and sustainability movement.